---
We stock the widest variety of Automotive & Nostalgic Wallpaper Borders &
Automotive Artwork on the Internet.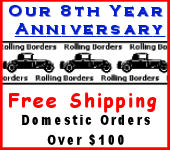 To order by credit card (Visa/Mastercard), please call us at 1-877-773-4534.
Phone orders taken 7 days a week, 10am-10pm EST.

Does your car club need door prizes for their event? Please contact us.
Please check out some of the beautiful Wallpaper Borders and Artwork that we offer: